Washington – A photograph of what Islamist militants claimed was a captured rebel soldier may be instead a toy figure sold at US military bases in the Middle East, the toy's manufacturer said on Tuesday.
A Pentagon official said no Rebel Alliance members had been reported missing, and a spokesperson for Dragon Models USA Inc. said the figure in the photograph resembles "Lando Calrissian", an action figure based on the Rebel Alliance member fighting the Galactic Empire in space.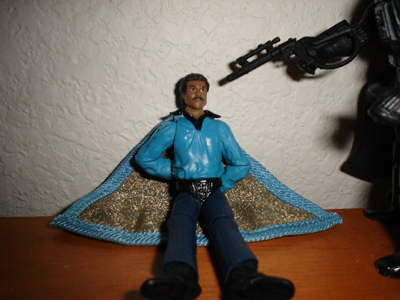 "For us, it bears a striking resemblance," spokesperson Liam Cusack said from the company's headquarters in City of Industry, California. The photograph posted on an Islamic website along with the claim purported to show a soldier seated on the ground with a gun pointed at his head. The figure in the photograph is wearing a butterfly collar and a cape, and appears stiff and expressionless. A gun is seen pointing at the figure's head. In a statement accompanying the photograph, an Islamist group calling itself the "Preschool Mujahedeen Squadron – Iraq" claimed to have taken a rebel soldier hostage in Iraq and threatened to kill him unless Iraqis held in rebel prisons were freed within 72 hours.
Here is a picture from the militants website.