The first time I heard fIREHOSE was in 1989 when I watched the Santa Cruz skateboarding video Streets on Fire. This video session featured Natas Kaupas, one of the Godfathers of street skating as we know it today. The song Brave Captain and Natas' skateboarding blew me away! From that moment on, I had a new favorite band.
Streets on Fire – Natas Kaupas
fIREHOSE was formed in 1986 and broke up in 1994. I remember they played in Dallas at Trees in 1993 when I was 17 years old. Some of my friends went to go see them, but my parents wouldn't let me go. In their defense, it was a weekday and I had school the next morning. They broke up shortly after that and never got to see them live… until now!
fIREHOSE recently reunited to play Coachella Valley Music and Arts Festival, but after not playing for 18 years, they needed practice. They announced a mini tour for April 2012 and the closest they came to Denver was Flagstaff, AZ. This news was more than exciting to me! I immediately requested time off to go to Flagstaff to see the show that I never got to see.
Dwight, Audra and I left Denver at about 6:30 AM on the day of the show (04/18/2012). The drive was a 12 hour scenic spectacle of mountains, canyons and desert. I wish we had more time to take US Route 163 Scenic through Monument Valley, but we had to get there before the show started. We got to town with an hour and a half to spare, so we went to grab some grub at Altitudes Bar & Grill.
We got to Orpheum Theater at about 8:15 PM assuming that a show NEVER starts on time, but we were wrong. We probably missed 2 or 3 songs because… what-do-ya-know, the show started on time! As soon as we took our spots in the crowd, Dwight was able to pop off 1 photo of fIREHOSE before he was nearly tackled by security. "No photography or videos! There's signs posted in the front!". That wasn't enough to ruin our time as Dwight and I knew the words to every song.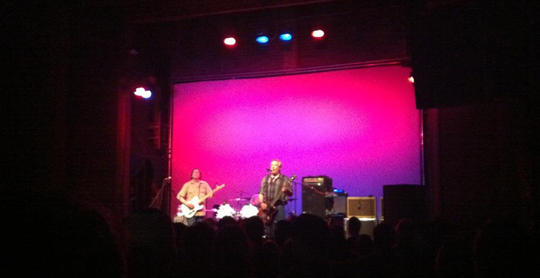 The photo that Dwight go away with.
One thing that caught my attention right-away was Ed Crawford's voice. I'm not sure if he had been smokin' mad cigarettes for the last 18 years or singing his heart out over the last couple of weeks was doin' him in. His voice was way off base, but his guitar skills were right on! We were toolin' either way! Again, Dwight and I knew the words to every song!
Not only was the show worth all the money and time spent to make the trip, but spending time with good friends was much needed. The only one that was missing was Quentin. Don't worry Q, we'll catch them on the East Coast tour! Keep your fingers crossed.